Stormr – Call of the Wild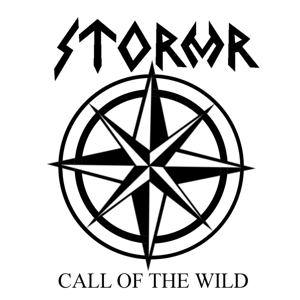 As a musician myself, I can't help but to have respect for one man ventures like Stormr. It takes a lot of skill to create an album like this. This is full of passion and clearly bears the fruit of hard work.
On starting to listen to this album, the intro track – The Calm Before – immediately caught my attention. The sound of the familiar thundering combined with a haunting acoustic track hit close to home. So many emotions have been evoked already, without even hearing the lyrical work yet.
The title track of the album, Call of the Wild immediately follows the intro track. The music immediately reminded me of classic Doom like Candlemass, but with it I felt a certain kind of intensity with the faster tempo. I really enjoy the melody of this song, even after listening to he album, I found myself humming it.
The third track on the album, Hammer of the Storm, is most certainly my favourite. A drum intro carrying on the doom and gloom from the first track, introduces one hell of a riff! Man, this is the stuff I like to bang my head to. The lyrics on this track is also of exceptional quality. It is everything that I expect Doom Metal to have.
Another highlight on the album to me is Forged by the North. The tempo of the album slows down a little bit and with that the feeling of gloom grows too. But don't let this fool you. About halfway through the song the incredible riffage returns! And the drumming speeds up quite a lot. It made me get goosebumps, I won't lie.
Call of the Wild ends of with a track that is undoubtedly influenced by classic Thrash as well, To Die For. This is such an enjoyable track to listen to. The riffs are tasteful, the drums add a delicate yet aggressive touch to it and vocals seal the deal with a brilliant melody.
In Conclusion –
I enjoyed this album a lot. While listening to this I was reminded of all the things that I like about Doom bands like Candlemass as well as the Thrashy feel of bands like Kreator. As the debut album of a one-man project, I think it is put together absolutely brilliantly.
Listen to Stormr on Soundcloud –
Review for Stormr's Call of the Wild - Released on 25th of march 2018
Summary
As the debut album of a one-man project, I think it is put together absolutely brilliantly. I am looking forward to future releases by Stormr.
Label:
Unsigned
Tracklist:
The Calm Before
Call of the Wild
Hammer of the Storm
The Path to Valhalla
Forged by the North
Sign of the Northern Star
To Die For
Line-up:
Emil Löfving – All instruments and vocals.