Profane Omen – Ooka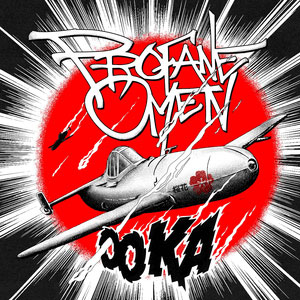 Depends which sources you believe it's been 4-5 years since their previous release "Reset". Either way it's quite a long time for a band between albums especially considering you need albums to tour and touring and merchandising is what brings food on the table. If even that. People who read my reviews or writings in general know very well how music works in my head. A single song can link me to certain events even decades away and just by listening to that one song I am able to not only remember those events but even feel them. Profane Omen has a very special place in my heart as I discovered them while I was going through one of the biggest changes in my life a bit over 10 years ago. I don't remember how I stumbled on their debut album "Beaten Into Submission" but I instantly fell in love with it. But with their sophmore album "Inherit The Void" I saw them live for the first time and it was in Sauna Open Air in Tampere, Finland. This was most likely either 2009 or 2010. I remember watching these guys go insane on stage but my eyes focused on two members in particular: The vocalist Jules Näveri and the drummer Samuli Mikkonen. Jules was/is/will be a perfect frontman and his ability to sing clean and growling is amazing. Samuli on the other hand I kept watching and I remember saying to my girlfriend at the time that "How can he play with such a small drumkit like that?" I have always been a big fan of Samuli cause he is a very technical drummer, doesn't rely only on speed although he can handle that too XD
Fast forward from 2009 to 2018. Although no official news was given I thought that Profane Omen would have called it quits. But then I started getting these small bits and pieces around that they are entering studio to record a new album and obviously I was extremely stoked about it. Since "Inherit The Void" the followers "Destroy!" and "Reset" were both good albums but something was lacking. Still to this very day I can't put my finger on what they were lacking but both albums just felt bit like…that's it? Keeping that in mind I was bit nervous for the new album and I didn't want to put too much expectations on it. Well now I have heard the album, more than once, more than 5 times. In fact it keeps playing all the time now. Why? Cause it's FUCKING PHENOMENAL that's why! How would I sum up the album with one sentence? Let's see…ok how about this: "Ooka" is a turbocharged monster with no brakes in it.
"Ooka" is not a long album. Longest song is 5:20 and shortest 2:36 and average length of songs is 3+ minutes. So considering that + the fact the album has 9 songs only it goes by fast. Impossible to say what was behind the songwriting process but the album almost sounds like it was made for live appearances. I can already see people going absolutely bananas with songs like "Aftersound", "White Noise", "They Came For Us". I hope I am able to catch them live this year.
So what is it that makes "Ooka" different from other Profane Omen albums? I can't say what they did differently with the songwriting process this time but it sounds like every song was ment to be in "Ooka". No fillers on this album ladies and gentlemen. And special mention has to go to Jules Näveri. This man is like a fine wine that just keeps getting better and better throughout the years.
"Ooka" is a turbocharged monster with no brakes in it
Summary
Profane Omen is one of those countless bands that haven't got the recognition they would've deserved but hopefully "Ooka" brings it cause it's truly an amazing album!
They released a video of the song "War Boy" and you can watch it below
OOKA tracklist:
1. They Came For Us
2. Make It Count
3. One Man Show
4. Terminal Dysfunction
5. War Boy
6. White Noise
7. Aftersound
8. The Wave
9. The Tide