Beast In Black – Berserker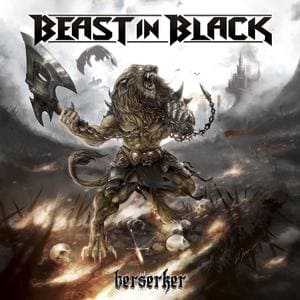 Berserker is a debut album by Beast in Black – the band that already opened shows for Nightwish. Not everyone is lucky enough to do that so I must say that there were high expectations for this album. And they were definitely met!
According to Anton Kabanen, the founder of the band, Berserker is influenced by the Japanese manga series "Berserk" – personally for me this is a rather interesting twist as how many other albums have manga as an influence? I personally didn't come across many! The album cover also has a massive beast on it and apparently, according to Roman Ismailov – artwork author, a couple of elements from the manga! This fact actually makes me want to explore the Japanese art more as previously I struggled to get into it..
The album itself has a great spirit and lots of variety in it. Some songs are so catchy that they get stuck in mind immediately while others need more time exploring. I like the energy that comes from this album! I can imagine how well the crowd receive songs during live performances.
The opening track – "Beast In Black" – is super-energizing and makes me want to move to the rhythm. The lyrics are, no surprise, powerful, in places even aggressive – they blend well with the music. I absolutely love the "The Beast is back, the Beast In Black" part – gives a fresh breath to the song.
"Blind and Frozen" has absolutely mind-blowing vocals and a catchy chorus. The band has also released a video for it:
My favourite song from the album is definitely "Born again" – I like the melody, the vocals, the lyrics that are, in all fairness, quite simple but I'm sure many people can relate to them. It's a nice love song that is not a ballad bringing you to tears but it still brings the point across.
The last track – a ballad "Ghost in the rain"– is a fantastic ending to the album. This song could go on repeat for a whole day – I would not get tired of it!
I won't go through every song in detail, but all of them definitely carry the Beast in Black character. I feel like this is a great thing that makes the songs recognisable. On the other hand, if Beast in Black release 2 or 3 more albums with the same sound and spirit I might get a bit tired. I like to see how bands develop and create something new with every album rather than "repeat themselves". However, not to forget, this is the debut album the guys have put together so surely hell knows what kind of surprises future releases will bring! Given that Anton Kabanen- the main songwriter, was also a founder behind Battle Beast, it would be strange not to say that I do get this "Battle Beast feeling". However, Beast in Black is more mature and varied in my opinion.
Berserker is a super-energizing album which makes me want to move. Listening to this album in the office while a work is a mistake as you'll have to resist dancing and headbanging (unless no-one can see you or you have an understanding boss!). I am looking forward to hearing this album live where I could let me energy go! I am definitely looking forward to new adventures with Beast in Black.
As great as a debut album can be!
Summary
I must say that there were high expectations for this album. And they were definitely met!
Berserker track list:
1. Beast In Black
2. Blind And Frozen
3. Blood Of A Lion
4. Born Again
5. Zodd The Immortal
6. The Fifth Angel
7. Crazy, Mad, Insane
8. Hell For All Eternity
9. Eternal Fire
10. Go To Hell
11. End Of The World
12. Ghost In The Rain
Band lineup:
Kasperi Heikkinen – guitars
Sami Hänninen – drums
Yannis Papadopoulos – vocals
Anton Kabanen – guitars
Mate Molnar – bass