Prescriptiondeath + Hexhammer + Brainspoon + Execution Mania – Leppakomies, Helsinki, April 4, 2018
Circuit Breaker Bookings presented a heavy Wednesday night at Lepakkomies, Helsinki with PRESCRIPTIONDEATH (performing in Finland for the first time) together with HEXHAMMER, BRAINSPOON & EXECUTION MANIA.
The local metal enthusiasts gathered very early to witness the 4 live acts.
The opening band, EXECUTION MANIA, a newcomer band from Helsinki, delivered a straightforward 20 minutes set of pure, tight grindcore. Even though their live set was short, the energy was definitely striking, no compromises.
Second act of the night was BRAINSPOON, a death metal quartet formed in Helsinki in 2012.
With 2 EPs released, "Raw Power Death" in 2015 and "Crush the Walls of Illusion" in 2017 , their live set incorporates death/thrash/crossover traits with, in my opinion, clear influences from bands such Repulsion or Death Strike.
Being a death/thrash metal freak, I was personally looking forward to their live performance. I witnessed them live for the first time in 2016 during Puska Metal Festival and I was positively impressed back then as I was this time around.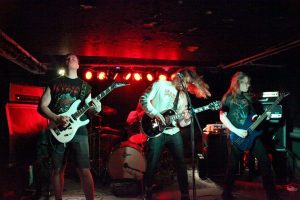 Third act was HEXHAMMER, a five piece combo from Helsinki as well.
Their crushing black´n´roll style is infused with blackened/crossover/ thrash elements, punk and traditional rock.
The powerful vocals incorporate both black metal elements together with punk oriented ones. Guitar playing varies from slower paced riffs to more straightforward crossover thrash.
Their unique performance reminds me of Satyricon, Darkthrone, Mayhem, Kvelertak, Venom but also of Iron Maiden and Motörhead at times, to mention just a few.
Powerful and heavy, intense and atmospheric traits are remarkable and their versatile style satisfies the listener's needs, I would say. I personally can´t wait to catch them live next time.
Final act was PRESCRIPTIONDEATH, hailing from Gävle, Sweden.
Their first LP "Life Before Debt" was released in Europe and South Africa last fall.
Performing in Finland for the first time, they´re currently on tour consisting of five gigs across Finland including Turku, Helsinki, Tampere, Jyväskylä and Joensuu.
They brought powerful and violent hardcore to Lepakkomies.
Following the vocalist Rob Roid´s suggestion "please come closer, pretend you´re having fun" , the enthusiastic supporters approached the stage more and more in order to enjoy their energetic set which did not disappoint.
Mr. Roid screamed his lungs out performing among the audience for practically the whole time. A bright future is ahead of this band.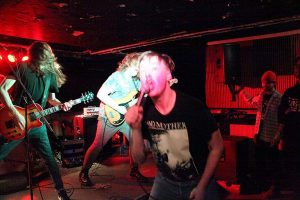 Check out the full gallery here: