Tribulation
MEMBERS:

Johannes Andersson-Vocals, Bass
Jonathan Hultén-Guitars
Adam Zaars-Guitars
Oscar Leander-Drums
Tribulation are a Swedish heavy metal band from Arvika that formed in 2004. In early 2009, the band released its debut studio album The Horror. Their second full-length studio album, The Formulas of Death, was released in 2013. In 2015, they released their third full-length studio album Children of the Night which showed a departure from the death metal sound of their first two albums, drawing significantly on traditional heavy metal, psychedelic rock, gothic rock, as well as the occult and supernatural mythology.
Emerging from the darkness of the Swedish death metal abyss in 2004, the band immediately stood apart from what was already a crowded scene, betraying an uncompromising vision that refused to be shackled by any genre stereotypes.
To coincide with the start of their upcoming North American co-headline tour with Pallbearer, Swedish Metallers TRIBULATION will release a new 7inch / Digital EP […]
August 7, 2018 by Kris Murias
In just a few short days, Finland's Insomnium will be ready to bring the second leg of their Winter's Gate 2018 tour to European shores! […]
March 8, 2018 by Nikki Tuonela
The release date for TRIBULATION's much anticipated new album "Down Below" on January 26th is drawing closer… Correcting an audio issue on the previous version, […]
January 11, 2018 by Tero Tolkki
| Date | Venue | City | Country | Info | Tickets |
| --- | --- | --- | --- | --- | --- |
| 2019-02-22T19:30:00 | Turock | Essen/ruhr | Germany | Info | Tickets |
| 2019-02-24T19:00:00 | De Helling | Utrecht | Netherlands | Info | Tickets |
| 2019-02-25T19:00:00 | O2 Academy Islington | London | United Kingdom | Info | Tickets |
| 2019-02-26T18:30:00 | Petit Bain | Paris | France | Info | Tickets |
| 2019-02-28T20:00:00 | Backstage Halle | Munchen | Germany | Info | Tickets |
| 2019-03-03T19:00:00 | Hudební klub Nová Chmelnice | Praha | Czech Republic | Info | Tickets |
| 2019-03-09T19:45:00 | Café Central | Weinheim | Germany | Info | Tickets |
DISCLAIMER! None of the tourdates presented on this page belong to Nordic Metal. All the tourdates content belong to Bandsintown. We are using their data through a written consent between Nordic Metal and Bandsintown.
Tourdates are shown as they are and Nordic Metal is not responsible for any false information.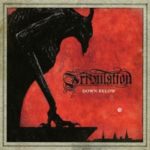 It's not often that you get a band like Tribulation, that combines the best of both worlds seamlessly. I've been eagerly awaiting this album since […]
February 20, 2018 by Riffvader
No livereviews found for this band.
If you are interested of going to concerts and writing reviews,
contact us
and maybe you could become a part of Nordic Metal Team.
No videos found for this band.