Gorement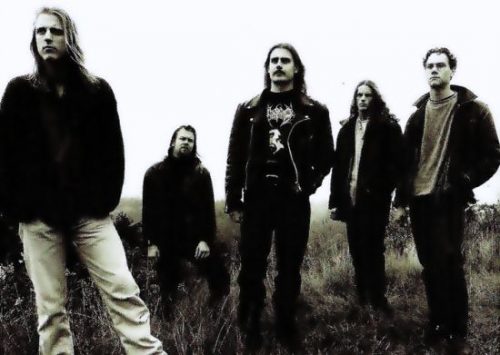 STYLE:
Death Metal
MEMBERS:
Jimmy Karlsson - Vocals
Patrik Fernlund - Guitars
Daniel Eriksson - Guitars
Nicklas Lilja - Bass
Robin Bergh - Drums
BIOGRAPHY

Souls of dark domains – Darkness Embraces you writhing – Darkness Coldness surrounds you – Darkness… Darkness of the dead..

Formed in 1989 as Testicle Perspirant, changed their name to Executioner, changed their name again in 1990 to Sanguinary, and finally settling down on Gorement in 1991.


Gorement

was a death metal band that formed in 1989 in Nyköping, Sweden. They recorded their first demos in 1991 and 1992. The "

Obsequies…

" demo was also rele

ased as a 7″ through Afterworld Records in 1992. In February 1993, they recorded their one and only full-length album, "The Ending Quest" which was released by Crypta Records the following year. The label ripped the band off badly, and shortly after the album was released, the label went bankrupt. All this led to original drummer Mattias Berglund leaving the band. His replacement was Robin Bergh and when he entered, the band they also changed musically with a more heavy metal oriented sound. This in turn, led to the band parting ways with vocalist Jimmy Karlsson. They decided to change their name to Pipers Dawn in 1996 with a new (female) singer and a new drummer.
DISCOGRAPHY

The Ending Quest / 1994

1. My Ending Quest
2. Vale of Tears
3. Human Relic
4. The Memorial
5. The Lost Breed
6. Silent Hymn (for the Dead)
7. Sea of Silence
8. Obsequies of Mankind
9. Darkness of the Dead
10. Into Shadows

The Ending Quest is the debut album by Swedish death metal band Gorement, released in 1994 on Crypta Records.
REVIEWS AND INTERVIEWS

No news found for this band.

Is your pencil sharp? Do you like writing?

Contact us

and maybe you could become a part of Nordic Metal Team.