Draconian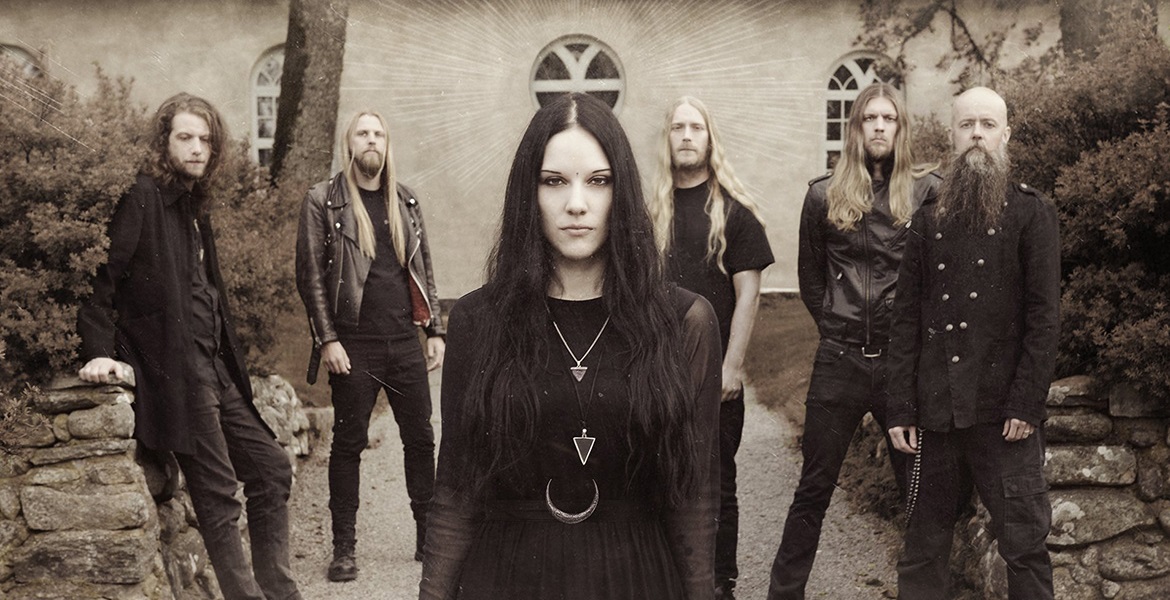 STYLE:
Doom Metal
,
Gothic Metal
MEMBERS:
Anders Jacobsson - Vocals
Heike Langhans - Vocals
Johan Ericsson - Guitar
Daniel Arvidsson - Guitar
Jerry Torstensson - Drums
BIOGRAPHY

The beginning of Sweden's Draconian can be traced back to May 1994, when Johan Ericson (drums, vocals), Andy Hindenäs (guitars) and Jesper Stolpe (bass, vocals), joined forces as KERBEROS, a melodic heavy/death metal ensemble with black metal influences. Seven months later, lead vocalist and poet, Anders Jacobsson, joined the band, which then changed its name to what it is today. 

Over the next months, Draconian worked diligently on new material that eventually found its way to their first demo, Shades of a Lost Moon, which was released in February 96. At the end of January 1997, Draconian recorded their second demo, In Glorious Victory. Unfortunately, the band quickly grew discontent with the sound quality of the recording and decided not to release it. In early August 1999, Draconian entered Studio Kuling to record The Closed Eye of Paradise, an album that dealt with the mystical dark theme of Lucifer and his fallen angels, the true face of God, and the forthcoming battle.

Unfortunately, the recording, suffering from a bad production, was again not up to Draconian's high standards and was not released before 2000, after the band had completed various improvements to the original recording.

Draconian began concentrating on creating something fresh and unique. Their sound became slower, darker, and doomier. The material that ensued guided Draconian in a different direction. Their 2-track promo, Frozen Features, was made available on the Internet, as well as in CD format. A final demo was recorded in the summer of 2002, featuring the vocal talents of Lisa Johansson for the first time. Dark Oceans We Cry paved the final way for Draconian to transcend out of the unknown and into the limelight. The demo received outstanding reviews and the band signed a long-awaited record deal with NAPALM RECORDS.

Draconian recorded their debut album, Where Lovers Mourn, in Studio Mega under the supervision of Chris Silver (ex Sundown and Cemetary member) in July 2003.

Just two years later, under the direction of Pelle Saether, Draconian entered Studio Underground in Västerås to record Arcane Rain Fell in 2005.

In 2006, Draconian began working on their third release. But due to myriad fan requests, the band decided to first deliver a bonus album to include remakes of older tracks from The Closed Eyes of Paradise demo. The Burning Halo would also include three new tracks and two covers. Plagued by numerous problems throughout the production phases, the album was delayed and finally completed in June and released in September 2006

Produced by Andreas Karlsson and Johan Ericson, and mixed in Anders Ljudbild by Anders Bergström, The Burning Halo is a majestic blend of Draconian's previous two releases, which shows the Swedish doom metal masters in perfect form, having developed into one of the scene's top acts.

In September 2007, Draconian began recording their fourth album, Turning Season Within, at the Fascination Street Studios in Örebro with producers Jens Bogren and David Castillo (Opeth, Katatonia).

Turning Season Within was released in early 2008. Only Draconian is able to so skillfully follow romantic passages and wonderful female vocal arrangements with the tuned-down walls of darkish riffs and violent vocal passages, or even compose dreamy melodies fit for an eternity, only to forcefully tear them down, thus creating a beguiling yet heavy fusion of doom and gothic metal.

The album received outstanding feedback from press and fans alike, and the band soon hit the stage in support of their latest offering. In 2010, the band began work on new material and entered the studio to record a new album.

With the summer release of Draconian's fifth album, A Rose for the Apocalypse, the agonizing wait comes to an end. The formation revolving around top-notch vocalists Anders Jacobsson and Lisa Johansson once again delivers first-class songs that continue to prove the band's supremacy within the darkly genre. The album opener is more than enough to forget the holdup, as it combines the band's strengths better than ever before. Massive guitars, heavy drums, melancholic melodies, deep growls, and enchanting female vocals are all part of this obscure symbiosis uniting gothic metal and doom. The lyrics also march to the somber tune. Titles such as "The Last Hour of Ancient Sunlight" and "Dead World Assembly" provide a very direct insight into the inner workings of the tracks' protagonists. A Rose for the Apocalypse was recorded at the renowned Fascination Street Studios (Katatonia, Opeth, Paradise Lost…) under the guidance of Jens Bogren, whose expertise allows each track to achieve its ultimate sound potential. Draconian delivers a hypnotic soundtrack of apocalyptic proportions. Never before has the End of Days sounded off with such magnificence!

Draconian's sound has remained steadfast to its origins, in particular, the powerful vocal growls of Anders Jakobsson, one of the band's defining and most unique features, along with newcomer female vocalist Heike Langhans sensitively interwoven melodies. Draconian sixth studio album, Sovran, is no exception to this formula, and immediately convinces the listener with Beauty and the Beast-esque vocal contrasts, striking accents, and threatening moods.
VIDEOS

Subscribe to Nordic Metal in Youtube

DRACONIAN - Stellar Tombs (Official Video) | Napalm Records

DRACONIAN - The Last Hour of Ancient Sunlight | Napalm Records

DRACONIAN - Lustrous Heart (Official Lyric Video) | Napalm Records

DRACONIAN - Rivers Between Us (feat. Daniel Änghede) (Official Lyric Video) | Napalm Records

DRACONIAN - Sorrow Of Sophia (Lyric Video) | Napalm Records

If you noticed we are missing a video from this artist (Official one) please let us know by sending e-mail to

[email protected]
DISCOGRAPHY

Sovran / 2015

A Rose for the Apocalypse / 2011

Turning Season Within / 2008

The Burning Halo / 2006

Arcane Rain Fell / 2005

Where Lovers Mourn / 2003
REVIEWS AND INTERVIEWS

No news found for this band.

Is your pencil sharp? Do you like writing?

Contact us

and maybe you could become a part of Nordic Metal Team.