Bloodbath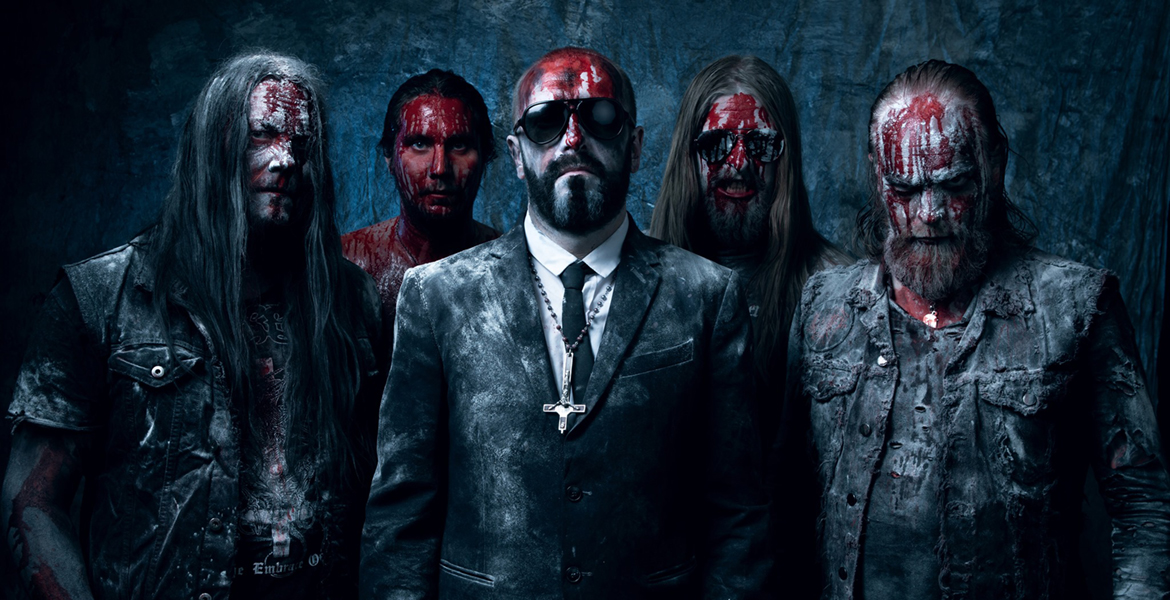 STYLE:
Death Metal
MEMBERS:
Nick Holmes-Vocals
Anders Nyström-Guitars
Jonas Renkse-Bass
Martin Axenrot-Drums
BIOGRAPHY

Bloodbath is a Swedish death metal band from Stockholm, formed in 1998. The band has released four full-length albums, two EPs and two DVDs depicting their performances at Wacken Open Air (in 2005) and Bloodstock Open Air (in 2010). The group comprises Martin Axenrot (Opeth), Anders Nyström (Katatonia), Jonas Renkse (Katatonia), Nick Holmes (Paradise Lost), and Per Eriksson, who was previously the guitar technician for both Bloodbath and Katatonia.

The band named themselves after the song "Blood Bath" from the album To the Gory End by Cancer. A year after being formed, the band, then consisting of Mikael Åkerfeldt (Opeth) on vocals, Dan Swanö (Edge of Sanity, Nightingale, etc.) on drums, Anders "Blakkheim" Nyström (Katatonia, Diabolical Masquerade) on guitar, and Jonas Renkse (Katatonia, October Tide) on bass, released their EP Breeding Death, followed two years later by their debut album Resurrection Through Carnage.

In 2004, Åkerfeldt left Bloodbath to free up more time for his primary band Opeth. To replace him, Bloodbath brought in Peter Tägtgren (Hypocrisy). The lineup changed further, with Swanö switching to play the guitar instead of drums. Martin Axenrot (Witchery, Satanic Slaughter, Opeth) took his place and the band was now bigger and more serious, no longer just a secondary project. The band's second full release, Nightmares Made Flesh, was released in Europe in September 2004.

In February 2005, Tägtgren left the band due to "conflicting schedules". That same year, Åkerfeldt rejoined the band for a single live show at Germany's Wacken Open Air on August 5. Prior to the show, the band commented on the Wacken show: "Not only the first, but also the last gig for Bloodbath (with Mikael Åkerfeldt on vocals)"; later it also turned out to be the last one with Swanö. In September 2005, Bloodbath started searching for a new lead singer.

In August 2006, the band announced the departure of Swanö from their ranks due to musical differences, as well as Swanö being busy with other projects. They simultaneously closed the vocal auditions, announcing that no suitable singer had been found.

On March 27, 2007, the band announced that a new line-up would shortly be unveiled, along with news that they were producing new material, to be released on a mini-CD towards the end of summer. In August 2007, Renkse wrote a message on the band's official discussion forum which suggested that work was in progress. On January 30, 2008, it was announced via the Bloodbath website that Åkerfeldt would be rejoining the line-up on vocals, along with new member Per Eriksson (ex-21 Lucifers, ex-Genocrush Ferox) on guitar. In March 2008, the EP Unblessing the Purity was released. Also released in 2008 was the Wacken live CD/DVD The Wacken Carnage. Bloodbath released their third full-length album, The Fathomless Mastery, in October 2008.

On April 25, 2011, Bloodbath released their second DVD, Bloodbath over Bloodstock, which contains their performance at Bloodstock Festival 2010, as well as their 2008 performance at Party San. On November 1, 2011, during the final show of the American Opeth/Katatonia tour at Ram's Head Live in Baltimore, MD, Bloodbath performed a surprise encore after Opeth's set.

On April 14, 2012, Blakkheim announced that Åkerfeldt officially left the group.

Blakkheim has said in multiple interviews that they have a new vocalist set, but they cannot reveal the identity at the moment due to the lack of contract. When asked in one interview whether the new vocalist was known or not, Blakkheim said, "Oh, he's a legend!". On September 16, 2014, the band announced the new Bloodbath vocalist as Nick Holmes from Paradise Lost.
VIDEOS

Subscribe to Nordic Metal in Youtube

Bloodbath - Soul Evisceration (The Wacken Carnage)

Bloodbath - Bloodicide (lyrics video) (from The Arrow of Satan is Drawn)

Bloodbath - Hades Rising

Bloodbath - Eaten (Live at 70000 Tons of Metal 2016)

BLOODBATH - Like Fire - Bloodstock 2018

If you noticed we are missing a video from this artist (Official one) please let us know by sending e-mail to

[email protected]
DISCOGRAPHY

The Arrow Of Satan Is Drawn / 2018

1. Fleischmann
2. Bloodicide
3. Wayward Samaritan
4. Levitator
5. Deader
6. March of the Crucifiers
7. Morbid Antichrist
8. Warhead Ritual
9. Only the Dead Survive
10. Chainsaw Lullaby

The Arrow of Satan Is Drawn is the fifth studio album by Swedish death metal band Bloodbath, released on October 26, 2018 via Peaceville Records. It is the only album to feature guitarist Joakim Karlsson.

In a 2017 interview with Metal Wani, frontman Nick Holmes stated that the band will enter the studio in the end of January next year to record the follow-up to Grand Morbid Funeral. The recording process had officially concluded on July 23, 2018, with hints at featuring "legendary" guests on the album. On August 17, 2018, the band have confirmed The Arrow of Satan Is Drawn as title of their new album for a October 26 release via Peaceville. A lyric video for the first single of the album "Bloodicide", which featuring Jeff Walker of Carcass, John Walker of Cancer and Karl Willetts of Memoriam and formerly of Bolt Thrower, was available for streaming on September 13, 2018. On October 18, 2018, the band released a music video for the song "Chainsaw Lullaby".

Guitarist Anders "Blakkheim" Nyström commented on The Arrow of Satan Is Drawn:

"What are we presenting with this album? Humanity's unfaltering march prone towards downfall. The threat to this world isn't from far beyond the sun, the enemy is right here, within the walls. Only the god of emptiness will survive us all. The arrow of Satan is drawn! It wasn't deliberately planned to be just British guests, but as it randomly turned out that way, it became a really cool feat! Nick [Holmes], Jeff, Karl and John are all legends respectively within the UK death metal scene and we're proud to bring them all together on our little old school soiree to tribute the days of old."

Grand Morbid Funeral / 2014

1. Let the Stillborn Come to Me
2. Total Death Exhumed
3. Anne
4. Church of Vastitas
5. Famine of God's Word
6. Mental Abortion
7. Beyond Cremation
8. His Infernal Necropsy
9. Unite in Pain
10. My Torturer
11. Grand Morbid Funeral

Grand Morbid Funeral is the fourth studio album by Swedish death metal band Bloodbath. It was released by Peaceville Records on November 17, 2014.

Grand Morbid Funeral was recorded in 2014 at Ghost Ward and City of Glass in Stockholm, Sweden and self-produced by the band. This is the first Bloodbath album to feature vocalist Nick Holmes from UK metal band Paradise Lost after Mikael Åkerfeldt of Opeth left, having lost interest in performing death metal. Anders "Blakkheim" Nystrom of the band states that the album is "destructive, raw, heavy, organic and sludgy death metal."

The album features guest appearances from Chris Reifert and Eric Cutler from death metal band Autopsy.

Blabbermouth described the "unapologetic fury" of Grand Morbid Funeral and stated that the album "brings the same old-school, brutalized death metal Bloodbath has been hailed for". MetalSucks commented that new singer "Holmes' voice is just the worm-gut-strewn axe-to-the-skull this music needs" and stated that "if you've spent most of 2014 waiting around to get leveled by a death metal record with a little legacy heft, you might want to get out there and snatch up the new Bloodbath". The review in Exclaim! stated that "Bloodbath have upped the brutality ante with Grand Morbid Funeral" and claimed that Holmes has "surpassed expectations with powerful and sinister throat-gurgling delivery".

The Fathomless Mastery / 2008

1. At the Behest of Their Death
2. Process of Disillumination
3. Slaughtering the Will to Live
4. Mock the Cross
5. Treasonous
6. Iesous
7. Drink from the Cup of Heresy
8. Devouring the Feeble
9. Earthrot
10. Hades Rising
11. Wretched Human Mirror

The Fathomless Mastery is the third full-length album by Swedish death metal band Bloodbath. Former Scar Symmetry vocalist Christian Älvestam performed guest vocals on the sixth track, "Iesous". The outro of the final track, "Wretched Human Mirror", features samples from the movie I Am Legend. A video was made for "Hades Rising", directed by Owe Lingwall and shot on location in Vallentuna, near Stockholm. The album peaked at No. 45 on the Heatseekers Chart in the US on release. The album was reissued in 2011, bundled together with the tracks from the Unblessing the Purity EP released in 2008. The Fathomless Mastery is the last studio album with vocalist Mikael Åkerfeldt and the first to feature lead guitarist Per Eriksson.

Nightmares Made Flesh / 2004

1. Cancer of the Soul
2. Brave New Hell
3. Soul Evisceration
4. Outnumbering the Day
5. Feeding the Undead
6. Eaten
7. Bastard Son of God
8. Year of the Cadaver Race
9. The Ascension
10. Draped in Disease
11. Stillborn Saviour
12. Blood Vortex

Nightmares Made Flesh is the second album by Swedish death metal band Bloodbath. It was released by Century Media Records on September 27, 2004. The only album to feature Peter Tägtgren, who was brought in to replace Mikael Åkerfeldt as the vocalist, as well as the first to feature Martin Axenrot to replace Dan Swanö as the drummer (with Swanö now playing guitar). This was Swanö's last album with Bloodbath.

The song "The Ascension" appeared on the two-part episode of Viva La Bam when the Margera's go to Europe.

Resurrection Through Carnage / 2002

1. Ways to the Grave
2. So You Die
3. Mass Strangulation
4. Death Delirium
5. Buried by the Dead
6. The Soulcollector
7. Bathe in Blood
8. Trail of Insects
9. Like Fire
10. Cry My Name

Resurrection Through Carnage is the debut studio album from Swedish death metal group Bloodbath. It was released on November 12, 2002, on Century Media Records. It is the only album to feature Dan Swanö on drums, as he later switched to playing guitar and the last with Mikael Åkerfeldt until his return on The Fathomless Mastery.
REVIEWS AND INTERVIEWS

No news found for this band.

Is your pencil sharp? Do you like writing?

Contact us

and maybe you could become a part of Nordic Metal Team.
TOURDATES

| Date | Venue | City | Country | Info | Tickets |
| --- | --- | --- | --- | --- | --- |
| 2024-05-23T19:00:00 | Maryland Deathfest 2024 | Baltimore | United States | Info | Tickets |
| 2024-05-28T18:30:00 | Thalia Hall | Chicago | United States | Info | Tickets |
| 2024-05-30T18:00:00 | El Corazon | Seattle | United States | Info | Tickets |
| 2024-05-31T18:00:00 | Bloodbath, Primordial, Grave, Archgoat in Mesa, AZ | Mesa | United States | Info | Tickets |
| 2024-06-01T17:00:00 | 1720™ | Los Angeles | United States | Info | Tickets |

DISCLAIMER! None of the tourdates presented on this page belong to Nordic Metal. All the tourdates content belong to Bandsintown. We are using their data through a written consent between Nordic Metal and Bandsintown. Tourdates are shown as they are and Nordic Metal is not responsible for any false information.