Blazing Eternity
MEMBERS:

Peter Mesnickow-Vocals
Kim Larsen-Guitars
Morten Lybecker-Guitars
Magnus Ringling-Bass
Lars Korsholm-Drums
Jens Hansen-Keyboards
Danish band Blazing Eternity was formed in 1993 in the suburbs of Copenhagen on the ashes of a few different less important bands. The first line up starred Peter "Nattevogter/Nat Inc." Mesnickow (vocals), Morten "Sauron"Lybecker (guitars), Lars Korsholm (drums) and Bilal Sarac (bass). In the autumn of '93, a very primitive demo tape called "Tragedies" was released, but soon forgotten. And burned. .. .. However, the first real example of the melancholic and gothic-ridden black metal of Blazing Eternity was unveiled on the "Over Sorte Heder" demo-tape of summer 1995. 
The demo-tape received very good response in national and international metal magazines, and were even the best selling demo-tape (after Konkhra's classic "Malgrowth") in the 90's in the now defunct Metalized store in Copenhagen. The demo was produced by Jonas Chonovitsch, and shortly after the release, Blazing Eternity signed a management-contract with Intromental Management.
In the summer of 1997, the band recorded another demo "Der Hviler En Nat Under Sorte Vinterbøge" with new bassist Magnus "Darkenfald" Ringling. This demo wasn't released until the summer of 1998, and showed an even more progressed, melodic and atmospheric band, but still within the black/death genre with lots of goth and doom influences. In 1998, the band played a handful of different live shows, such as supporting Satyricon at Vega in Copenhagen. Furthermore, the band was assisted on recordings and at concerts by Kim Larsen and Anders Ro Nielsen from Danish premiere doomsters Saturnus.
In 1999, Blazing Eternity signed a record deal with German Prophecy Productions. This German label was the perfect home for Blazing Eternity, since the label was specialized in atmospheric and melancholic metal acts such as Nox Mortis, Paragon Of Beauty and Empyrium. Empyrium was a German duo consisting of Markus Stock and Andreas Bach, who actually was (and still is) a big influence for a load of doom/goth/atmospheric bands.
In 1999, Blazing Eternity entered the Studio E (owned by Prophecy) with producer Markus Stock for the recordings of the very first album. Very soon, it became clear that Markus Stock was an excellent studio-partner for Blazing Eternity, as both parties had the very same ideas and view on music. The result was the album "Times And Unknown Waters", that consisted of live favourites such as "Dark Summernights Of Eternal Twilight" and "Still Lost In The Autumn Of Eternity", but also new epics such as "Of Times And Unknown Waters", "Dead Inside" and the more experimental "End/Midnight".
"Times And Unknown Waters" was released in the middle of June 2000, and two weeks after, the band played at the legendary Roskilde Festival. Only two days after the Pearl Jam Roskilde concert that resulted in 9 dead people. So frankly said, the atmosphere could indeed have been better at this festival, but nevertheless Blazing Eternity played a great concert, presenting the new album.
Blazing Eternity played a handful of concerts in Denmark and Germany, ending of with the respected goth rock festival Wave Gotik Treffen in the summer of 2001, sharing the Haus Aunsee stage with Theatre Of Tragedy among others. The band also played a small tour in Denmark with Borknagar and Malignant Eternal. In the end of 2000, Magnus Ringling was replaced by Anders I. Kristiansen – and rehearsals for a new album began.
The decision for a new and less hard metal style was made. If the band should develop, growling vocals would not be the future. And after all, the band finally agreed that Morten Lybecker should handle the vocals on the upcoming album, but still leaving Peter Mesnickow in charge of the lyrics. "A World To Drown In" was recorded at the Studio E, Zeltingen, Germany with good friend Markus Stock in July 2002 with additional recordings at Soundzone Studio in Copenhagen, Denmark in October 2002. The album was released on Martin Koller's Prophecy Productions in 2003, and the album was a step away from extreme metal towards more clean melancholic rock/metal with a very catchy touch.
Songs such as "(Don't) Tell The World" and the epic title track "A World To Drown In" are still very heavy songs with an absolute presence of dark atmospheric and heavy guitars. Not to mention melodic melancholic beauties such as "Cover Me With Your Eyes" and "Monument", and the instrumental Korsholm-track "Procession"! Blazing Eternity played only two gigs after this album – at Stengade 30 in Denmark and again at the Wave Gotik Treffen in Germany.
Blazing Eternity resurrected in 2011, playing their first concert in 8 years at Metal Magic Festival in Fredericia, Denmark on July the 8th 2011. At this present time, more gigs are being planned.
No news found for this band.
Is your pencil sharp? Do you like writing?
Contact us
and maybe you could become a part of Nordic Metal Team.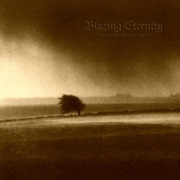 | Date | Venue | City | Country | Info | Tickets |
| --- | --- | --- | --- | --- | --- |
DISCLAIMER! None of the tourdates presented on this page belong to Nordic Metal. All the tourdates content belong to Bandsintown. We are using their data through a written consent between Nordic Metal and Bandsintown.
Tourdates are shown as they are and Nordic Metal is not responsible for any false information.
No album reviews found for this band.
If you are interested of writing album reviews,
contact us
and maybe you could become a part of Nordic Metal Team.
No livereviews found for this band.
If you are interested of going to concerts and writing reviews,
contact us
and maybe you could become a part of Nordic Metal Team.
No videos found for this band.