Quantos Possunt ad Satanitatem Trahunt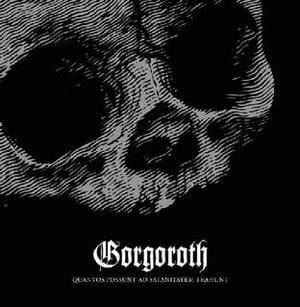 1. Aneuthanasia
2. Prayer
3. Rebirth
4. Building a Man
5. New Breed
6. Cleansing Fire
7. Human Sacrifice
8. Satan-Prometheus
9. Introibo ad Alatare Satanas
Quantos Possunt ad Satanitatem Trahunt (Latin for "They draw as many as they can toward Satanism") is the eighth studio album by Norwegian black metal band Gorgoroth. It was released on 21 October 2009 by Regain Records. This album marked the return of Peston vocals, as well as the debut of Tomas Asklund (ex-Infernal/Dissection/Dark Funeral) on drums and Bøddel (the pseudonym of Frank Watkins of Obituary) on bass.
Infernus, the founding member and guitarist of Gorgoroth, began work on this album in October 2006, and was first reported to be writing it when he was released on parole from prison in March 2007. However, the latter stages of the songwriting and much of the recording process were overshadowed by the Gorgoroth name dispute which began in October 2007. Within two weeks of the beginning of the dispute, the album title was revealed to the public.
Infernus cited the ecclesiastical writer Adam of Bremen as the inspiration for the album's title, parodying his maxim Quantos Possunt ad Christianitatem Trahunt.
Infernus began work on the album in October 2006, as he was about to serve a prison sentence for "gross negligent rape". He continued writing songs while he served his sentence, citing the "lack of outside distractions" as a factor. Shortly after he was granted parole in March 2007, the official Gorgoroth website (then situated at gorgoroth.org) announced that Infernus was "working on new material, both music and lyrics for an upcoming album, title yet undecided".
In October 2007, then-members Gaahl and King ov Hell attempted to remove Infernus from the band, igniting the Gorgoroth name dispute. On 31 October 2007, Infernus revealed the title to be Quantos Possunt ad Satanitatem Trahunt. Infernus said that "between 50 and 70% of the music" had "already been written (some of it even pre-recorded)" as well as "two or three lyrics". He stated that it would be released on Regain Records, which was reinforced by the decision of the record label in December 2007 to side with Infernus during the ongoing Gorgoroth name dispute.In December 2007, Bøddel and Asklund were revealed as new members of Gorgoroth on bass and drums respectively, and it was announced that former Gorgoroth guitarist Tormentor was assisting Infernus in arranging and producing the album.